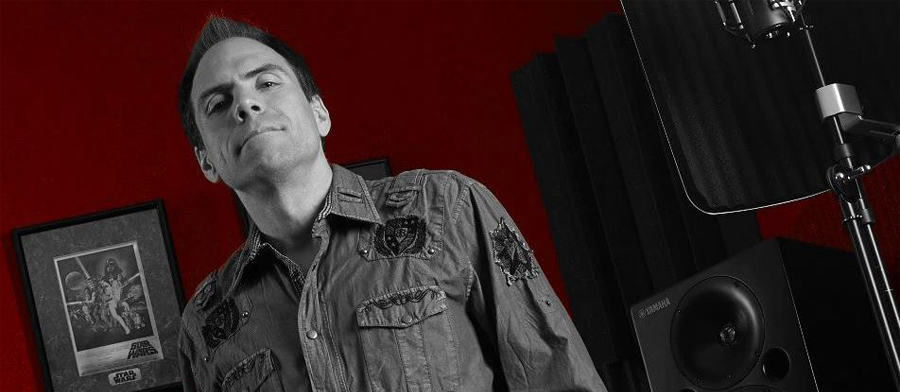 Frank Klepacki is an award-winning musician and composer whose influence spans many fields. He is best known for his contributions to the video game industry, most notably his innovative scores in the Command & Conquer series. For the 1996 title, Command & Conquer: Red Alert, Frank received the PC Gamer award for Best Game Soundtrack, with the game's main theme, "Hell March," widely recognized as one of the best video game themes of all time. In his current role as Audio Director at Petroglyph Games, Frank has continued to create acclaimed music for the Command & Conquer series and for other titles, such as the well-received Star Wars: Empire at War.
Matthews Marketing recently reached out to Frank to learn more about his career experiences and to hear his thoughts on what it's like to be a musician in the "digital age." Frank was generous enough to share his insights with us.
MM: With the rise of social media platforms, the means by which people network to pursue their career goals have changed. What would you say is the most effective way for musicians to network in the digital age?
FK: Most effective is still meeting in-person. Go to conventions, meetups, form real relationships and show a genuine interest in what people are a part of, and share your passion with them. Social media works better after you have made that connection in person. Otherwise you're just another "who is this person" that will get lost in a sea of ignored requests. Unless you are answering a direct job posting of course.
MM: There are more opportunities available today to musicians who want to put their music out into the world for others to hear it, with online platforms like YouTube and SoundCloud being two examples of popular sites where people can upload their work. Where would you recommend musicians go if they want their music to have the greatest exposure?
FK: Online platforms only serve to purpose of hosting a link to your work to be able to show people, it's not necessarily going to get you "exposure." You have to find ways to market yourself and do something out of the norm to stand out these days, otherwise you're lost in a sea of over-saturation.
MM: We have seen the development of new equipment and new technologies that allow people to create music at low-cost, even from the comforts of their own home. How has this affected your work? Has it changed the way you produce music?
FK: Tools are just that. It's up to the individual to decide whats the biggest bang for the buck or what is necessary to do the job required of them. Biggest thing to keep in mind is your work has to stand up quality wise to the rest of whats being utilized in the medium you're pursuing.
MM: How can musicians working with a limited budget take advantage of the equipment and technologies that now exist for creating music?
FK: Everyone has to start somewhere, but you have to have a goal. Define your goal, then break down the steps necessary to achieve it one step at a time.
MM: Over the course of your career, you've had to write a variety of styles to fit the specific requirements of the video game titles you were composing for, ranging from what you've called "Rocktronic" in Command & Conquer to material in Star Wars: Empire at War that complemented John Williams' classic sound. How difficult is it to write music in a style that you've never attempted before, and what is that writing process like?
FK: You always have to be open to learning something. If a certain style for a soundtrack was called for which I hadn't done much of then I study it relentlessly in order to capture the essence of it as authentically as I can. You'll find that personal taste in these genres is what will gravitate what you do toward your own style of composing, and that's when you know you are on the right track. However, if you're asked to emulate something literally, then you'll have to focus on that specific approach. For C&C I got to experiment with whatever I felt like, and weed out what worked and what didn't. With Star Wars, I obviously had to do my best John Williams impression, the key being to make the experience seamless from his material to my own so that the player wouldn't notice the difference.
MM: Music can play a very effective role in branding. When someone hears "Hell March," they automatically think of Command & Conquer. When you're creating music for a video game, is there an awareness that you're contributing towards building a brand, and if so, how does that affect the writing process (if it does at all)?
FK: The writing process is dictated by the direction and mood discussed in the beginning before you even start on it. Also implementation is taken into consideration because how the music is triggered will also play a part in how you approach it. With a theme like Hell March, I just wrote what I felt that particular day, and it was selected as the theme for Red Alert after the fact. Sometimes you can just compose a cool idea you have, and let the team decide where it fits into the game.
MM: What are your top 10 favourite video game soundtracks of all time?
FK: Do you mean my own, or others besides mine? If others, then:
Unreal Tournament

Kameo Elements of Power

Skyrim

Transformers Devastation

Red Dead Redemption

Jade Empire

The Secret of Monkey Island

Headhunter

Panzer Dragoon

Super Mario Bros.
MM: What's next for you?
FK: This year alone has been pretty prolific for me so far. The Grey Goo Expansion and full OST was released, followed by Petroglyph's 8-bit Armies and 8 -bit Hordes, and then I released 3 different albums – my latest solo album Digital Frontiers, The Bitters – Yes is IV, and Face the Funk – Somebody's Gotta Do it. Every one of these projects is completely different and very proud of them all. I'm working on a couple new video game projects and other albums right now which are unannounced, but stay tuned! Follow me on Facebook and Twitter for the latest updates as they happen.